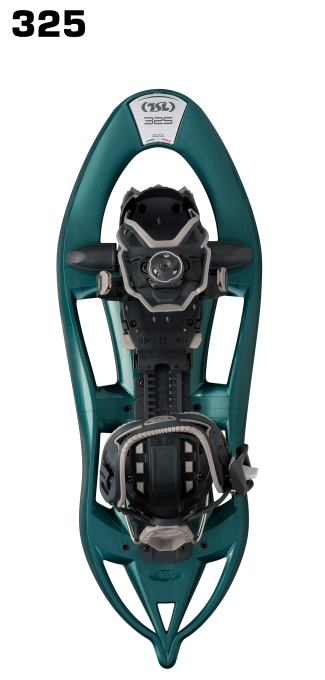 Combining the 3D frame with the Original 2 fastening will enable you to tackle different terrains with total ease.
Level of difficulty: 3

Suitable for hikers looking for ease of use and versatility
DECK

- Hourglass shape : allows for easier stride when walking
- Design 3D : Maximum climbing and side-hill traction under the foot
BINDING

- Flexible binding provides a high level of foot flexibility
- Lock Adjustment : This easy-to-use adjustment memorizes your shoe size for all your snowshoeing outings.
- BOA® Fit System : DIAL IN TO FAST, EFFORTLESS, PRECISION FIT.
AGILITY AND SPEED : The BOA® Fit System enables faster, more powerful directional changes through a seamless connection between equipment and body.
POWER AND PRECISION : Power without compromising precision, the BOA® Fit System delivers more explosive action and unparalleled accuracy.
- Lateral Adjust : offer greater comfort with their side adjustment system that will accept any width of shoe to give maximum foot surround.
- Tightening through a ratchet system for a secure and fast fit
- Bi material comfort strap
- Sound and Shock Absorbing System (SSAS)
TRACTION

- Design 3D : Maximum climbing and side-hill traction under the foot
- Front teeth for maximum traction on steep terrain
- 6 replaceable steel spikes
Made in France. Delivered with snowshoe bag.
Features
Dimensions
55 x 20 cm
21,6 x 8"
59,5 x 22 cm
23,4 x 8,6"
67,5 x 22,5 cm
27 x 8,5"
Weight
800g x 2
1,76 lbs x 2
890g x 2
1,96 lbs x 2
1005g x 2
2,21 lbs x 2
Crampons
2 x 6
2 x 6
2 x 6
Documentation
Size guide
Here is a table to help you choose the size of the product. Don't hesitate to contact us if you need more information !
Pointure
37 > 45
6,5 women > 13 women
39 > 47
7 men > 13 men
41 > 50
8 men > 15 men
Poids utilisateur
30 > 55 > 80 kg
65 > 120 > 180 lbs
50 > 85 > 120 kg
110 > 185 > 260 lbs
70 > 105 > 140 kg
150 > 225 > 300 lbs
Delivery
We only deliver in France excluding the DOM TOMs. Service delivered within 7-10 days. Shipping costs of €7,50 VAT included, for a home delivery / €5,50 VAT included for a delivery to a collection point. More information on delivery terms and conditions
Returns
If you are not satisfied with your purchase, you have the right to return it within 14 days (from receipt of the product). You can exercise this right of withdrawal without penalty. You are responsible for the shipping costs. More information about the returns policy
Guarantee
TSL's products are guaranteed against any operation defect resulting from any material, manufacturing or designing defect subject to the following provisions. This warranty applies for 2 years after the delivery of the product in accordance with article L. 217-4 of the french Consumers' Code. Replacement parts available, 5 years. Manufacturing defects are covered subject to normal maintenance and normal use (hiking). More information about the warranty terms and conditions