SNOWSHOEING SAFETY TIPS FOR BEGINNERS
Snowshoeing is a wonderful sport that allows you to enjoy the magnificent winter landscape.
However, mountains can be extremely dangerous in winter. As such, there are a few rules you need to follow :
 These trails are prepared, but the snow is not necessarily groomed.

 You follow these trails at your own risk.

 The walking times are given as a guideline only.

 Prepare your outing carefully.

 Always have a backup plan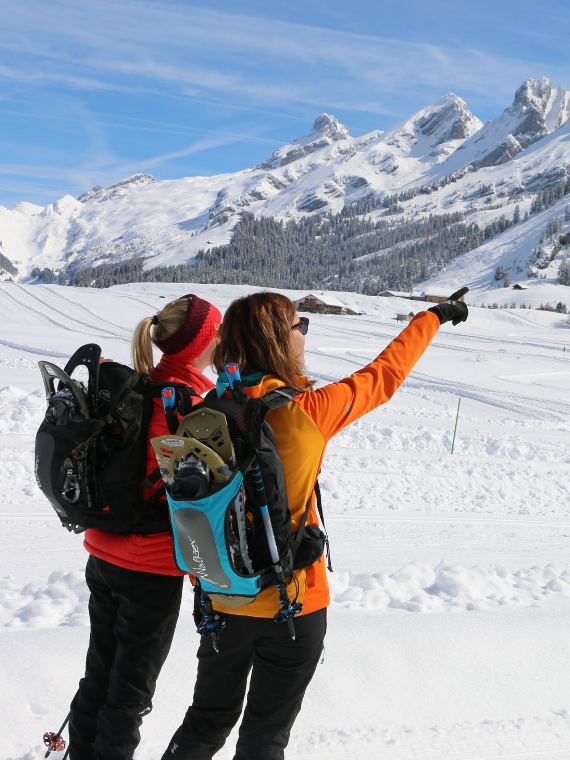 BE PREPARED
Check the weather conditions beforehand and only head out when the weather is good. In the mountains, the weather can change very quickly ! Sun, heat, wind, rain, fog, snow, cold… these are all things you need to prepare for.
Find out about the risk of avalanches. Summer trails are not necessarily adapted to safe and comfortable snowshoeing.
Never go out on your own !
Before leaving, say which trail you are going to take and don't forget to tell people when you come back !
Choose a trail which is suited to your physical and technical abilities ! Check the time regularly. Turn back when you need to, and don't try to do too much.
Make sure to use sunscreen. The combination of the Sun and the snow can burn you face severely.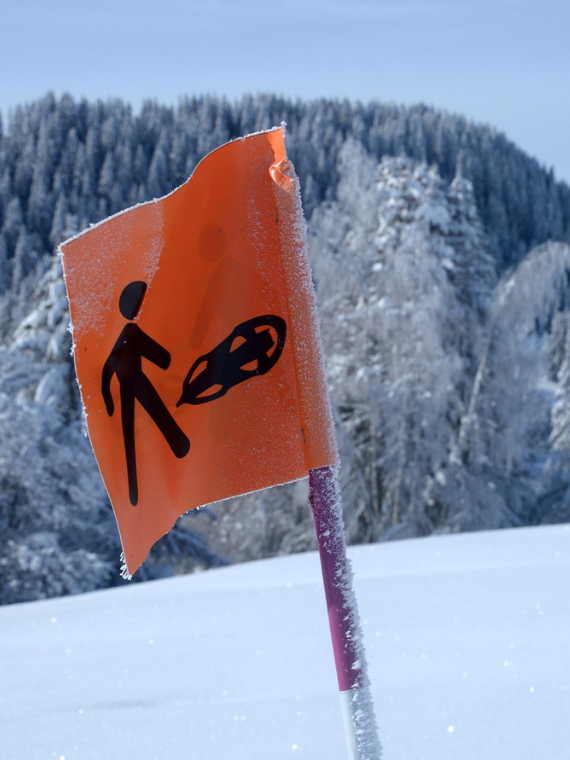 RESPECT OTHER PEOPLE
Do not use cross-country ski trails: the pleasure of Nordic skiing depends on the quality of the route and the snow grooming.
You will come across private estates. Bear this in mind, and take care to respect them.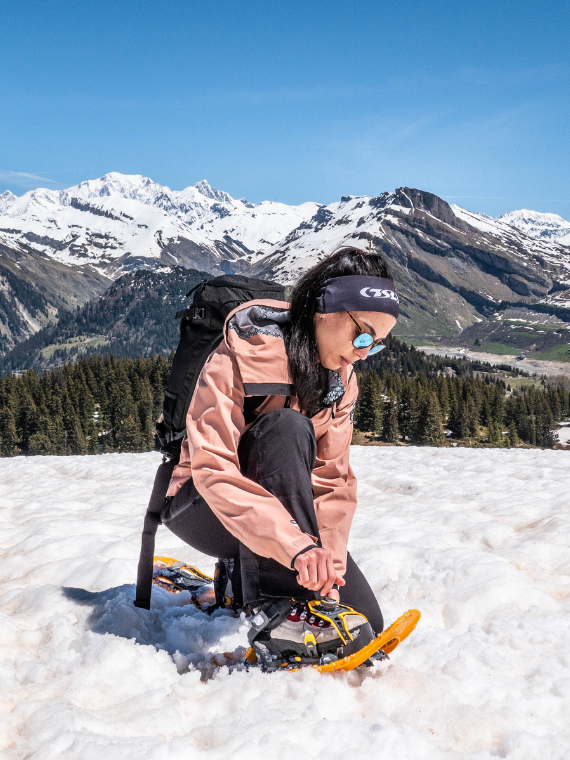 OUTFIT YOURSELF OUT PROPERLY
The wind chill factor can make it feel 5-10°C colder than the temperature indicated.
Wear robust, water-repellent winter boots with deeply ridged soles; wear gaiters to keep out the snow.
Choose clothes with several layers which enable you to adapt your outfit to the temperature. Don't forget your hat, gloves and sunglasses.
Take something to eat with you, and remember to take a hot drink.
If possible, take a first aid kit, a survival blanket and a mobile telephone with you.
In any case, if you have any doubts, call on a mountaineering professional: guides, instructors, and others. They'll help you get out on your snowshoes safely.
So get out on your snowshoes and enjoy yourself !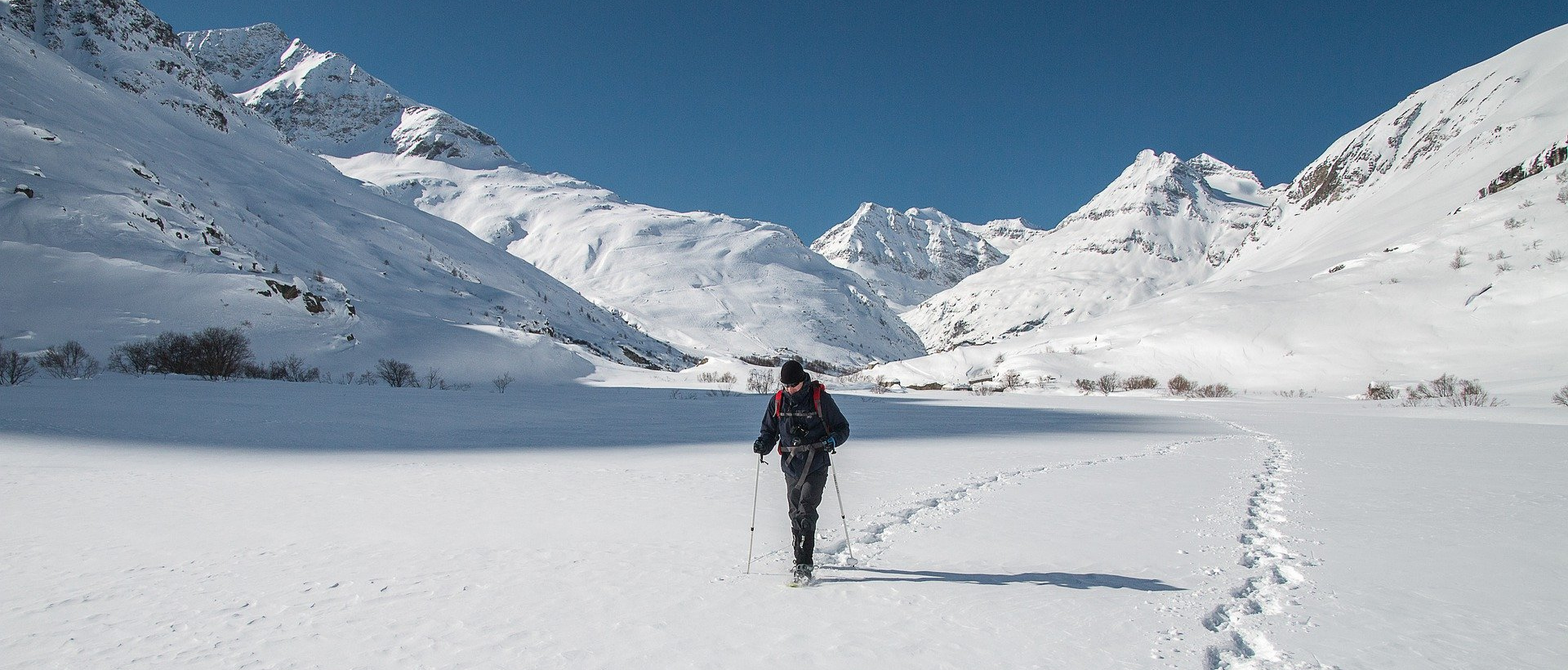 A FEW RULES TO FOLLOW WHEN YOU'RE OUT IN THE WILDERNESS
When you go trekking, you're stepping into a number of wild animals' habitats. Here are a few basic rules to follow to help preserve our plants, animals and the general tranquillity of nature :
1. Do not disturb wild animals and do not follow their tracks. The slightest disturbance can prove fatal.
It is hard to survive in winter, and moving to keep out of danger uses up precious energy. Don't forget that while you are just passing through, they need to live here all year round!
2. Don't wander off the posted trails. They have been put in place for hikers so they can keep their impact on plants and animals to a minimum. There's no need for a group to leave more than one trail.
3. Do not cross through sapling plantations. Forest renewal is critical for alpine ecosystems.
4. Don't pick any plant that you don't recognize. It may be a protected species and picking them could lead to their disappearance and shocks to the ecosystem.
5. Follow the rules concerning protected natural areas. These zones are essential to ensure people and animals can coexist in harmony.

6. Take all your rubbish back with you. Don't drop anything when you're out in the wild or you risk harming wild plants and disturbing the animals.

7. Please refrain from smoking. If you cannot, make sure you take your cigarette butts back with you
Preserve the wilderness and respect the environment. Nature in winter deserves your full attention !