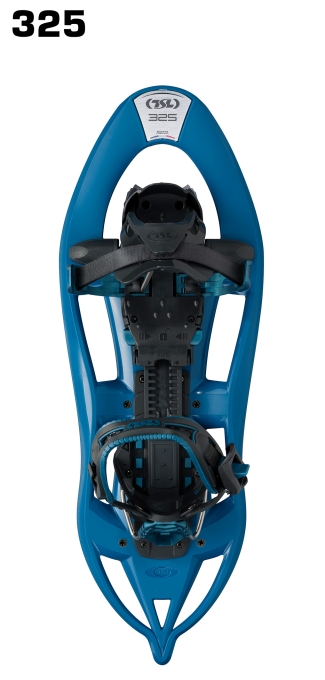 Snowshoes 305 & 325 & 345 ACCESS: These offer the same characteristics as the 305/325 Tour Grip, but without the grips. For experienced snowshoe walkers.
Level of difficulty : EXPLORE, 2/3
Suitable for hikers looking for ease of use and versatility
DECK
- Hourglass shape : allows for easier stride when walking
- Design 3D : Maximum climbing and side-hill traction under the foot
BINDING
- Flexible binding provides a high level of foot flexibility
- Lock Adjustment : This easy-to-use adjustment memorizes your shoe size for all your snowshoeing outings.
- Front tightening with strap
- Lateral Adjust : offer greater comfort with their side adjustment system that will accept any width of shoe to give maximum foot surround.
- Ankle PRE-ADJUST : Enables you to centre the comfort PAD on your instep and permanently set its position.
- Tightening through a ratchet system for a secure and fast fit
- Bi-material comfort strap
- Sound and Shock Absorbing System (SSAS)
- Easy Ascent Heel lift,activated by simply pushing with the pole
TRACTION
- Front teeth for maximum traction on steep terrain
- 6 replaceable steel crampons
ACCESSORIES
- Adaptable grips for excellent traction on icy and hard packed snow
All our pairs of snowshoes are supplied with bags for transport and storage.
Features
Crampons
2 x 6
2 x 6
2 x 6
Size guide
Here is a table to help you choose the size of the product. Don't hesitate to contact us if you need more information !
Pointure
37 > 45
6,5 women > 13 women
39 > 47
Poids utilisateur
30 > 55 > 80 kg
65 > 120 > 180 lbs
50 > 85 > 120 kg
110 > 185 > 260 lbs
70 > 105 > 140 kg
150 > 225 > 300 lbs
Delivery
Orders normally ship within 48 hours. Orders placed over the weekend or on holidays will ship within 2 business days. Shipping Cost: Orders over $100.00 qualify for free shipping. Orders up to $49.99 are charged $8.50 shipping Orders from $50.00 to 99.99 are charged $15.00 for shipping. More information on delivery terms and conditions
Returns
If you are not satisfied with your new purchase from TSL, you may return it within 14 days from receipt. You may return the goods without penalty, but you are responsible for the shipping cost. More information about the returns policy
Find a reseller
Last stories