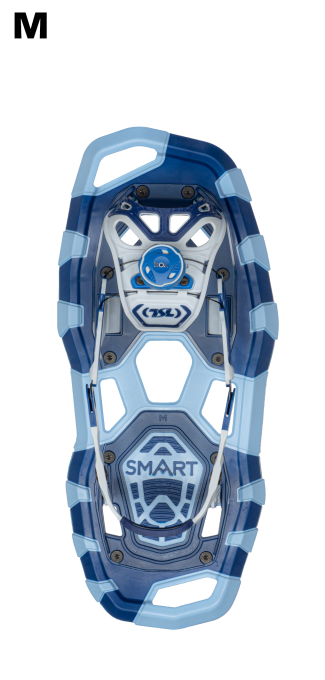 SMART, walk smart!
TSL presents a new way to approach winter.
Light and minimalist, the SMART is the crafty combination between float and grip, the perfect compromise between snowshoes and walking crampons.
Synonymous with freedom of movement and completely controlled support, the SMART is an extension of the shoe, thanks to its intuitive and precise sole that is completely in tune with the foot. The load bearing surface is at least twice as large, and its grip and traction make walking easier and safer.
Winter is a child's play!
. Both the design and the tips of the SMART fully respect the foot's natural walking action.
. Easy to get on and take off. Thanks to the BOA® Fit System, the shoe is one with the liner.
. Traction bars for optimum grip on all types of snow, whether you're going up or down.
. 10 interchangeable spikes located underneath the different pressure points, delivering optimum grip and stability.
. Delivers enhanced walking performance thanks to a load-bearing surface that more than doubles in size.
Made In France.
Technologies
Features
Dimensions
36 x 16 cm
14,2 x 6,3"
39 x 18 cm
15,4 x 7,1"
44 x 20 cm
17,3 x 7,9"
Weight
410 g x 2
0,90 lbs x 2
435 g x 2
0,95 lbs x 2
460 g x 2
1,01 lbs x 2
Documentation
Size guide
Here is a table to help you choose the size of the product. Don't hesitate to contact us if you need more information !
Pointure
35 > 41
40 > 45
7,5m > 11,5m
44 > 50
10,5m > 15m
Delivery
We only deliver in France excluding the DOM TOMs. Service delivered within 7-10 days. Shipping costs of €7,50 VAT included, for a home delivery / €5,50 VAT included for a delivery to a collection point. More information on delivery terms and conditions
Returns
If you are not satisfied with your purchase, you have the right to return it within 14 days (from receipt of the product). You can exercise this right of withdrawal without penalty. You are responsible for the shipping costs. More information about the returns policy
Guarantee
TSL's products are guaranteed against any operation defect resulting from any material, manufacturing or designing defect subject to the following provisions. This warranty applies for 2 years after the delivery of the product in accordance with article L. 217-4 of the french Consumers' Code. Replacement parts available, 5 years. Manufacturing defects are covered subject to normal maintenance and normal use (hiking). More information about the warranty terms and conditions