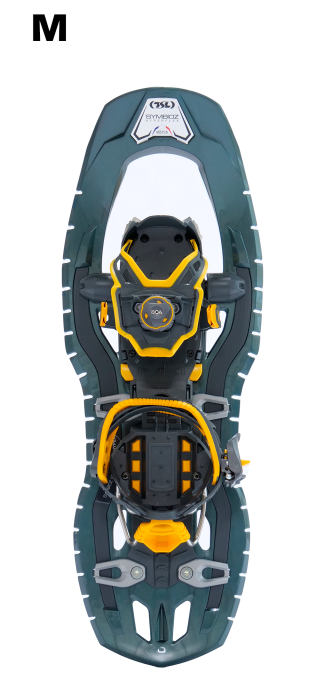 The Symbioz Phoenix snowshoe is the sustainable model from TSL.
The frame is made entirely of recycled fabric, equipped with the Hyperflex feature as well as the BOA Fit System and other great features. The sustainable model for your next snowshoe hike.
Level of difficulty : SUMMIT, 3/3
Suitable for experienced hikers looking for technicality, grip and comfort.
DECK
- Hyperflex Concept : Hyper-flexible and lightwieght with an ergonomic binding, the Symbioz adapts to The unevenness of the terrain to give extraordinary traction and a completely natural stride.
- CARBON REINFORCEMENTS : Carbon reinforcements store energy during the flexing phase and restore it at the end of the stride to increase stride power and reduce effort and vibration. Distortion of the Symbioz Elite frame is progressive, responsive, precise and uniform in both the bending and twisting phases.
- Hourglass shape : allows for easier stride when walking

BINDING
- Flexible binding provides a high level of foot flexibility
- Lock Adjustment : This easy-to-use adjustment memorizes your shoe size for all your snowshoeing outings.
- The BOA® Fit System delivers micro-adjustable, precision fit engineered to perform in the toughest conditions.
AGILITY AND SPEED : The BOA® Fit System enables faster, more powerful directional changes through a seamless connection between equipment and body.
POWER AND PRECISION : Power without compromising precision, the BOA® Fit System delivers more explosive action and unparalleled accuracy.
- Lateral Adjust : offer greater comfort with their side adjustment system that will accept any width of shoe to give maximum foot surround.
- Tightening through a ratchet system for a secure and fast fit
- Bi material comfort strap
- Sound and Shock Absorbing System (SSAS)


TRACTION
NEVER HAS A SNOWSHOE OFFERED SUCH OUTSTANDING GRIP.
- The flexible frame follows the shape of the terrain, provides superb stability and complete safety to avoid sudden sliding in powder snow.
- The vertical blades provide superb traction and control on inclines or steep slopes in soft
or compact snow.
- Front teeth
- The 8 independent, abrasion-resistant stainless steel crampons (similar to mountaineering crampons) are always located under the foot's pressure points, no matter the size of your foot. They grip is unbeatable.
Made in France. Delivered with recycled material snowshoe bag.
Features
Dimensions
52,5 x 19 cm
20,5 x 7,5''
Crampons
2 x 8
2 x 8
2 x 8
Size guide
Here is a table to help you choose the size of the product. Don't hesitate to contact us if you need more information !
Pointure
41 > 50
8 > 15
9,5 > 16,5
41 > 50
8 > 15
9,5 > 16,5
41 > 50
8 > 15
9,5 > 16,5
Poids utilisateur
30 > 55 > 80 kg
65 > 120 > 180 lbs
50 > 85 > 120 kg
110 > 185 > 260 lbs
70 > 105 > 140 kg
150 > 225 > 300 lbs
Delivery
Orders normally ship within 48 hours. Orders placed over the weekend or on holidays will ship within 2 business days. Shipping Cost: Orders over $100.00 qualify for free shipping. Orders up to $49.99 are charged $8.50 shipping Orders from $50.00 to 99.99 are charged $15.00 for shipping. More information on delivery terms and conditions
Returns
If you are not satisfied with your new purchase from TSL, you may return it within 14 days from receipt. You may return the goods without penalty, but you are responsible for the shipping cost. More information about the returns policy
Choisir mon produit