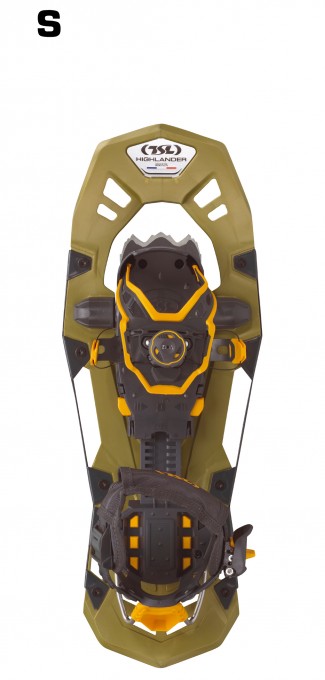 Snowshoes HIGHLANDER ADJUST : Effective grip and comfort are guaranteed with the Highlander Adjust. Highly effective on even the steepest terrains, with secure foot hold through precise, uniform binding.
Difficulty level: 4

Suitable for experienced hikers looking for technicality, grip and comfort.
HIGHLANDER FRAME & TRACTION
ROCKER :
The purpose of the rocker is to cushion your step, helping to guide the foot through the walking process, whether on flat surfaces or inclines.
Front grip:
A sharp, multi-tooth grip for maximal traction on steep inclines. Made from stainless steel, it is sure to stand the test of time.
Lateral grips:
The interchangeable grips located around the edges of the frame provide excellent grip on all types of snow. The 3D design and hourglass shape help prevent you from slipping while going up, while providing enhanced grip for downhill sections.
Structured frame:
The structured frame and the crossbars help guarantee control and traction on soft and compact snow.
Contact grip:
A TSL patent, the composite teeth beneath the rear rocker of the snowshoe cut and expel snow, ensuring enhanced grip for downhill sections.
Crampons:
Whether on flat or inclined surfaces, initial contact with the snow is made using these 2 two-way, stainless steel crampons positioned beneath the base of the foot.
BINDING
- Flexible binding provides a high level of foot flexibility
- Lock Adjustment : This easy-to-use adjustment memorizes your shoe size for all your snowshoeing outings.
- BOA® Fit System : DIAL IN TO FAST, EFFORTLESS, PRECISION FIT.
- AGILITY AND SPEED : The BOA® Fit System enables faster, more powerful directional changes through a seamless connection between equipment and body.
- POWER AND PRECISION : Power without compromising precision, the BOA® Fit System delivers more explosive action and unparalleled accuracy.
- Lateral Adjust : offer greater comfort with their side adjustment system that will accept any width of shoe to give maximum foot surround.
- Ankle PRE-ADJUST : Enables you to centre the comfort PAD on your instep and permanently set its position.
- Tightening through a ratchet system for a secure and fast fit
- Padded comfort strap
- Sound and Shock Absorbing System (SSAS)
- Easy Ascent Heel lift,activated by simply pushing with the pole
All our pairs of snowshoes are supplied with bags for transport and storage.
Features
Dimensions
52 x 19 cm
20.5 x 7.5"
57 x 21 cm
22.5 x 8"
67 x 22.5 cm
26.5 x 8.5"
Weight
890 g x 2
1.96 lbs x 2
930 g x 2
2.05 lbs x 2
980 g x 2
2.16 lbs x 2
Crampons
2 x 2
2 x 2
2 x 2
Lateral grips
2 x 2
2 x 2
2 x 2
Documentation
Size guide
Here is a table to help you choose the size of the product. Don't hesitate to contact us if you need more information !
Pointure
37 > 44
6,5 women > 12 women
39 > 47
7 men > 13 men
41 > 50
8 men > 15 men
Poids utilisateur
30 > 55 > 80 kg
65 > 120 > 180 lbs
50 > 85 > 120 kg
110 > 185 > 260 lbs
70 > 105 > 140 kg
150 > 225 > 300 lbs
Delivery
We only deliver in France excluding the DOM TOMs. Service delivered within 7-10 days. Shipping costs of €7,50 VAT included, for a home delivery / €5,50 VAT included for a delivery to a collection point. More information on delivery terms and conditions
Returns
If you are not satisfied with your purchase, you have the right to return it within 14 days (from receipt of the product). You can exercise this right of withdrawal without penalty. You are responsible for the shipping costs. More information about the returns policy
Guarantee
TSL's products are guaranteed against any operation defect resulting from any material, manufacturing or designing defect subject to the following provisions. This warranty applies for 2 years after the delivery of the product in accordance with article L. 217-4 of the french Consumers' Code. Replacement parts available, 5 years. Manufacturing defects are covered subject to normal maintenance and normal use (hiking). More information about the warranty terms and conditions