WHAT TO WEAR FOR SNOWSHOEING: EQUIPMENT LIST
Because the right technical equipment is the secret of a successful outing on snowy terrain, discover how to put together your complete outfit for winter trekking, combining comfort during effort and protection against the weather. In collaboration with Lafuma, discover the most suitable products for snowshoeing.
JACKET & UNDERLAYS
The 3-layer rule is a must in outdoor sports. It ensures that the body is breathable, insulated and protected, without ever hindering the trekker's movements. The best way to combine comfort and technicality, so why deprive yourself?
The first layer allows perspiration to be evacuated. It consists of a technical undergarment made from very fine materials such as polypropylene, chlorofibre, polyester or acrylic. It is the best ally to counter the sensation of cold and stay dry, and can be worn without moderation, as a second skin.
The second layer is designed to insulate the body. Designed to prevent heat loss, it traps the body's thermal contribution while facilitating the evacuation of sweat. Fleeces and down jackets are generally used as intermediate layers.
The third layer should protect against the elements. In winter, it is recommended to choose a protective jacket with a membrane (such as Gore-Tex®) with taped seams to ensure total waterproofing. This third layer of protection must meet 3 criteria: waterproof, windproof and breathable.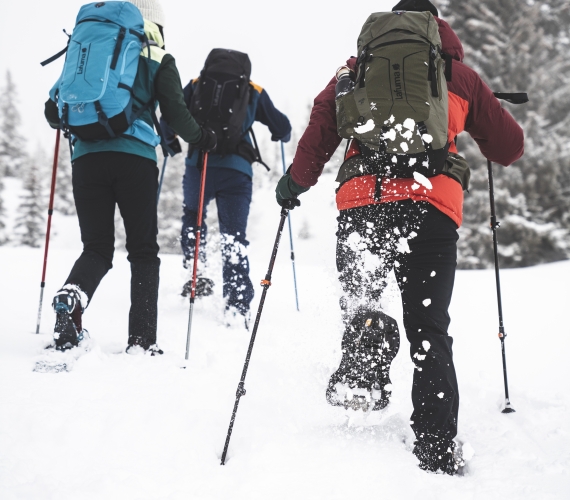 PANTS
The choice of pants is important to obtain a complete technical equipment.
For maximum protection, trekking pants or ski pants remain the best solution, especially for rides on snowy terrain. For winter treks in mild temperatures, it is possible to use stretch overpants, which protect against wind, rain and snow, to be worn over technical tights (first layer) or to use a single layer with water-repellent pants.
Anti-intrusion pants also prevent snow from getting into the clothing, thanks to a hook system that is fixed on the shoe. They should be considered for snowshoeing, yooning or sledging. However, there is an alternative with the use of gaiters, that are positioned like a shield on the pants and the shoe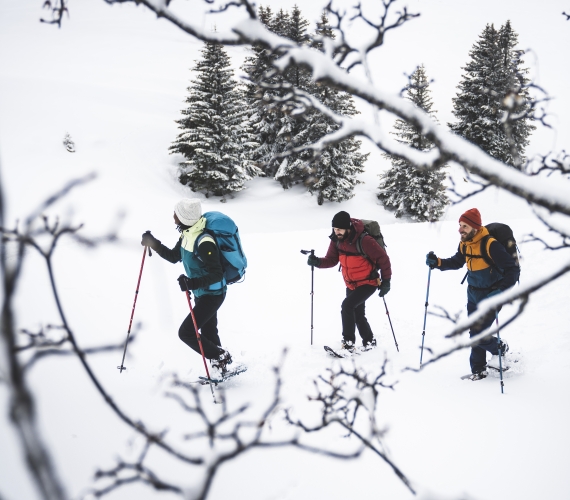 CAP, GLOVES & SHOES
When snowshoeing in the middle of powder snow or during a winter trek, comfort is not optional. It is therefore essential to keep your extremities warm: a cap pulled tightly over your head, gloves on each hand and tightly fitting shoes are a must to face the sub-zero temperatures.
Caps, headbands or balaclavas can keep your head warm during exercise and contain the heat that tries to escape. The ideal headgear for winter trekking, made from warm, breathable materials such as fleece or merino wool, should be warm, windproof and light.
For hand protection, mittens are preferable as they provide a complete barrier against the cold. Gloves offer a better grip, but be sure to add an under-layer for maximum warmth. There's nothing worse than trekking with frozen fingertips!
Lastly, the choice of footwear should be based on what the winter conditions dictate: warmth, waterproofing, grip, breathability and support. Stiffness and comfort are also important for a smooth hike. Our range of shoes meets all these criteria perfectly, with the added bonus of models that can be clipped directly onto snowshoes (exclusive to TSL).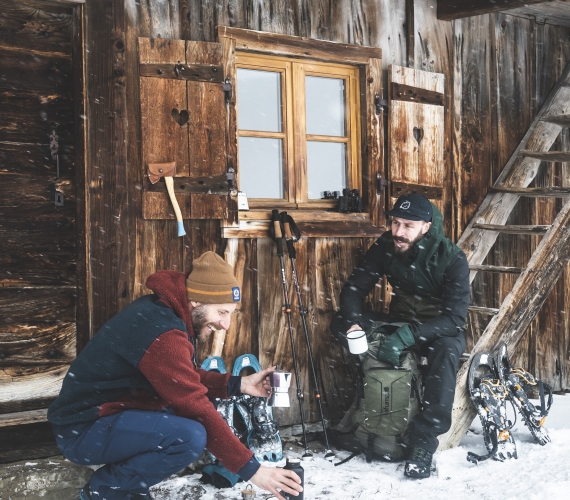 Let's go !
You are now ready from head to toe to face the winter and to set off serenely, equipped with your snowshoes, ready to take on the white landscapes! One last piece of advice before you head out on your adventure: whatever your activity and the weather situation, avoid over-covering yourself from the start and plan to adjust your layers during your breaks instead.