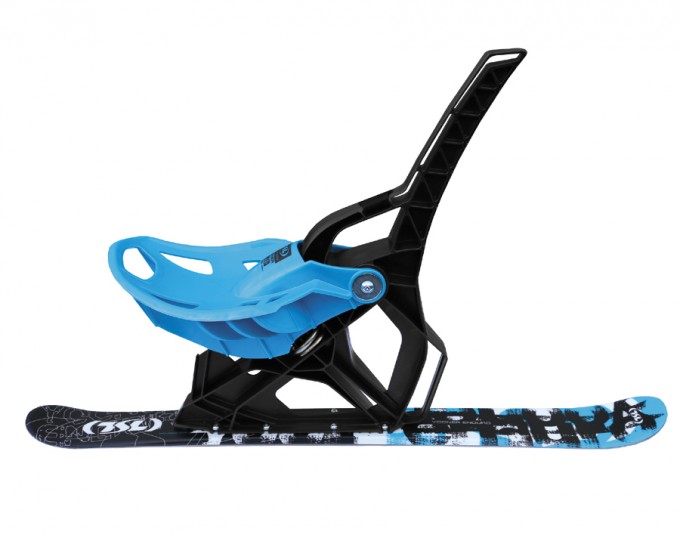 The new, all-terrain version of the Yooner!
The Yooner Enduro has all the qualities that have made the Yooner such a success (comfort, suspension, claw brake) but with some major added advantages: you'll love its carved ski, suitable for all types of snow, its lightness, design.
Take it with you everywhere!
The Yooner lets you sled down a slope sitting comfortably on a seat mounted on a spring and to turn corners by simply rotating your shoulders, the handle insures great balance. The Yooner's key advantage is that it's easy to handle, great fun and immediately exciting. The Yooner is for all ages and anyone who wants to share in an easy, fun activity. It's also a way of bringing skiers and non-skiers together and bringing more variety to life in the snow!
Chassis :
Very good base with curved handle providing excellent steering of the Yooner.

Ski :
Carved ski, suitable for all types of snow

Shock absorber :
It absorbs the relief of the slope and makes the descent more comfortable

Braking :
To stop yourself, skid just as you would in skiing.
Made in France.
Features
Dimensions
24 x 39 x 9.5"
Size guide
Here is a table to help you choose the size of the product. Don't hesitate to contact us if you need more information !
Delivery
Shipping within Canada on orders over 150,00 $ is free* * Before taxes and after discounts * Orders from 1,00 $ to 49,99 $ delivery fees 10,00 $ * Orders from 50,00 $ to 149,99 $ delivery fees 15,00 $ * Delivery fees 25,00 $ for remote locations in CanadaMore information on delivery terms and conditions
Returns
Product returns are accepted within 7 days of receiving your order. Product returns are eligible for a refund if your return meet all the following criteria More information about the returns policy
Guarantee
TSL's products are guaranteed against any operation defect resulting from any material, manufacturing or designing defect subject to the following provisions. This warranty applies for 2 years after the delivery of the product in accordance with article L. 217-4 of the french Consumers' Code. Replacement parts available, 5 years. Manufacturing defects are covered subject to normal maintenance and normal use (hiking). More information about the warranty terms and conditions