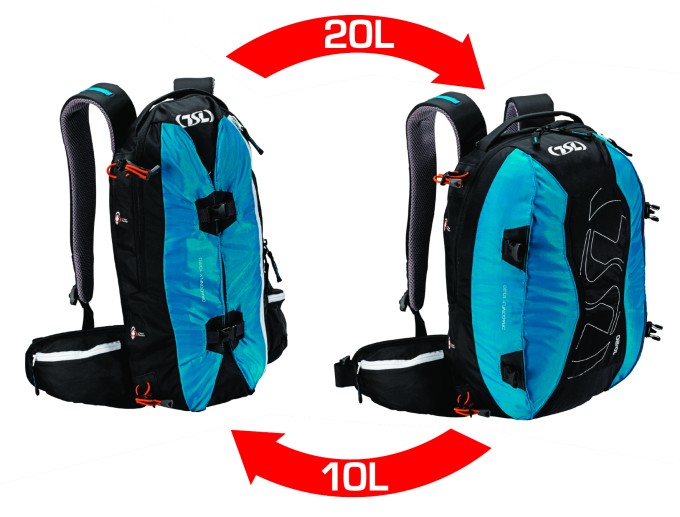 Backpack Dragonfly 10/20 : The Dragonfly 10/20 can change its volume from 10 to 20L and is the ideal companion for hiking or a trip to town. This "no-frills" pack has everything that a good pack should have: padded straps, breathable back padding, easy access, several storage pockets and a snowshoe and pole carrying system. The perfect small backpack!

• Rigid back (pad + foam) and padded straps
• Openings on top of the pack
• 1 top pocket
• 1 side pocket
• 2 internal pockets
• 2 belt pockets
• 1 Opening for hydration tube
• Horizontal straps for carrying (snowshoes, poles, skis, snowboard)
• load bracer, chest strap
• Materials : 420D Polyester Pu Coating
Caractéristiques
Dimensions Sac
10L : 50 x 25 x 20 cm - 20L : 50 x 25 x 22 cm
Guide des tailles
Voici un tableau pour vous aider dans le choix de la taille du produit. N'hésitez pas à nous contacter si vous désirez plus d'informations !
Livraison
Livraison Lorem ipsum dolor sit amet, consetetur sadipscing elitr, sed diam nonumy eirmod tempor invidunt ut labore et dolore magna aliquyam erat, sed diam voluptua. At vero eos et accusam et justo duo dolores et ea rebum. Stet clita kasd gubergren, no sea takimata
Retours
Retours Lorem ipsum dolor sit amet, consetetur sadipscing elitr, sed diam nonumy eirmod tempor invidunt ut labore et dolore magna aliquyam erat, sed diam voluptua. At vero eos et accusam et justo duo dolores et ea rebum. Stet clita kasd gubergren, no sea takimata
Garantie
Garentie Lorem ipsum dolor sit amet, consetetur sadipscing elitr, sed diam nonumy eirmod tempor invidunt ut labore et dolore magna aliquyam erat, sed diam voluptua. At vero eos et accusam et justo duo dolores et ea rebum. Stet clita kasd gubergren, no sea takimata