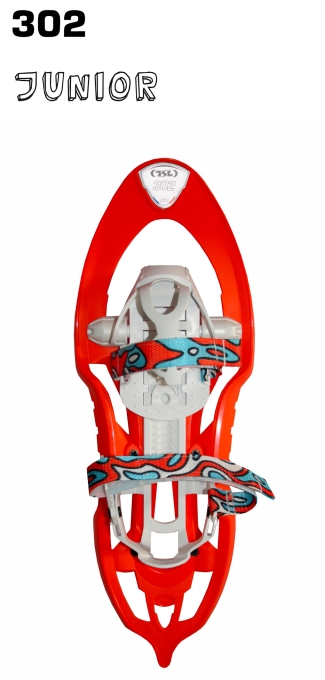 Snowshoes 302 Freeze : A sophisticated model fitted with an ultra-simple size adjustment system and two self-gripping tightening straps, it offers excellent traction through its 3D design, 6 crampons and front teeth. It's got everything the big boys have.
Level of difficulty : JUNIOR
The first snowshoe for little hikers
DECK Hourglass shape : allows for easier stride when walking BINDING Heel cup with self-gripping strap Adjustable toe box with self-gripping strap Telescopic size adjustment ACCROCHE Front teeth for maximum traction on steep terrain 6 replaceable steel crampons All our pairs of snowshoes are supplied with bags for transport and storage.
Size : 30 > 40 ( 13 girl > 9 women )
User weight : 25 > 35 > 50 kg ( 40 > 75 > 110 lbs)
Guide des tailles
Voici un tableau pour vous aider dans le choix de la taille du produit. N'hésitez pas à nous contacter si vous désirez plus d'informations !
Pointure
30 > 40
13 girl > 9 women
Poids utilisateur
20 > 35 > 50 kg
40 > 75 > 110 lbs
Livraison
Livraison Lorem ipsum dolor sit amet, consetetur sadipscing elitr, sed diam nonumy eirmod tempor invidunt ut labore et dolore magna aliquyam erat, sed diam voluptua. At vero eos et accusam et justo duo dolores et ea rebum. Stet clita kasd gubergren, no sea takimata
Retours
Retours Lorem ipsum dolor sit amet, consetetur sadipscing elitr, sed diam nonumy eirmod tempor invidunt ut labore et dolore magna aliquyam erat, sed diam voluptua. At vero eos et accusam et justo duo dolores et ea rebum. Stet clita kasd gubergren, no sea takimata
Garantie
Garentie Lorem ipsum dolor sit amet, consetetur sadipscing elitr, sed diam nonumy eirmod tempor invidunt ut labore et dolore magna aliquyam erat, sed diam voluptua. At vero eos et accusam et justo duo dolores et ea rebum. Stet clita kasd gubergren, no sea takimata
Trouver un revendeur
Dernières histoires