Technology and performance at your fingertips
TSL Outdoor has always been known for its innovation, its robust products but also for its high quality French manufacturing. In 2016, we introduced 4 models of Trail poles made 100% in France with some very nice, innovative features. Here are the details.
"Grip and safety" :The Crossover Pad adapts to the varying rough surfaces of the terrain for optimal grip and support. The 8 studs deform on contact with the ground to adhere, grip and stick as closely as possible to the terrain.
"Speed and hold" : MAGIC with the Magnetic Gauntlet System for easy fastening. Its unique and fun magnetic technology makes connecting the gauntlet or wrist strap to the pole a breeze. You no longer need to aim well to fasten it, the pole comes to you. Secure and locked in place, there is no risk of unintentional detachment during the race. A simple press of the button at the top of the handle is enough to free yourself from the stick.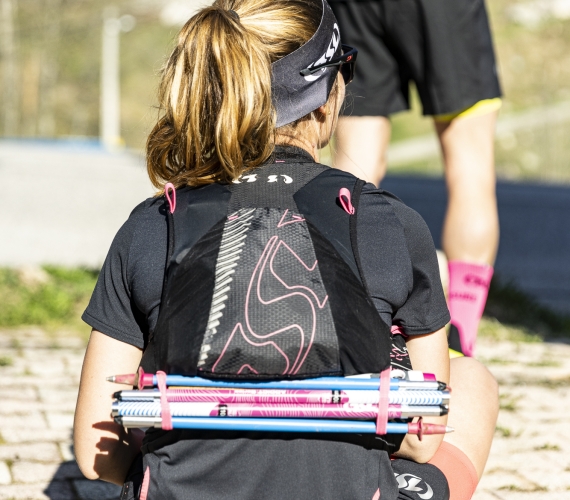 THE ADVANTAGES OF TSL TRAIL POLES
FAST:
- No more wasted time thanks to the magnetic concept for a quick and easy connection of the gauntlet with its pole.
PERFORMANCE:
- An extraordinary multi-terrain grip for those familiar with the "Crossover Pad" concept.
- Very good support due to the ergonomic, comfortable and precise gauntlet. The breathable fabrics and the numerous reinforcements around the edges contribute to a reactive recovery of forces and precise support points.
RESPONSIBILITY:
- TSL Trail poles are made in France in Annecy-le-Vieux [74].
- The Crossover Pad prevents the path erosion associated with standard spikes.
- No risk of hurting your competitors or friends during your race thanks to the Crossover pad.
- No noise pollution thanks to the very quiet Crossover Pad.
BREAKING NEWS: THE TRAIL RANGE IS EVOLVING AT TSL
Human and relational values are, in addition to Made In France, the values that best characterise TSL. You may already know if you are a Trail enthusiast : there is a TSL Team made up of 6 athletes who are passionate about Trail Running.
In order to support them as effectively as possible, in addition to the Trail poles, we were keen to expand our Trail range to allow all runners to equip themselves with our products. Soon you will be able to test our new Trail bags, as well as our running belt, our soft flasks and our great pair of mismatched socks in collaboration with La Chaussette de France!