How Much Snow Do You Need to Snowshoe?
Snowshoeing is a delightful way to traverse winter landscapes, but knowing how much snow is needed for this activity is crucial not only for safety but to ensure a pleasurable experience.
At TSL Outdoor, we offer insights to help you make the most of your snowshoeing endeavors. While the right equipment plays a vital role in enhancing your experience, determining how much snow do you need to snowshoe is primordial.
Whether you're a seasoned snowshoer or a beginner eager to step into snowshoes for the first time, let's embark on this journey to discover the snowy paths best suited for your winter explorations.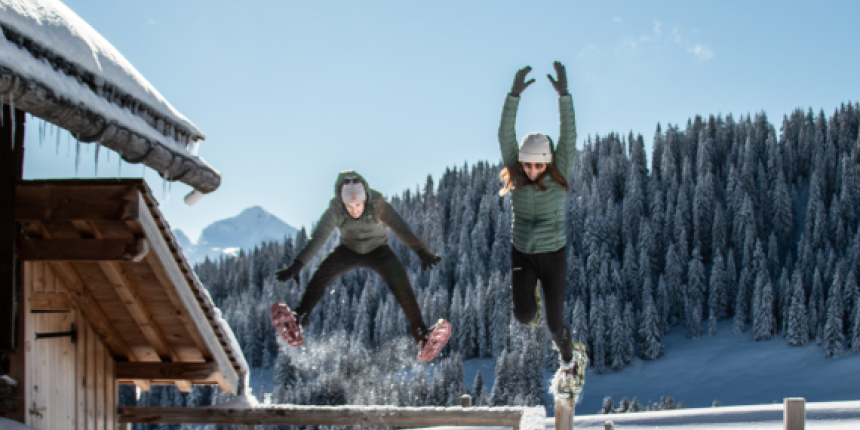 How Much Snow to Snowshoe: Snow Depth and Density
For those keen on snowshoeing, the depth and density of snow are critical factors that determine the success of your outing. Here's how you can assess the conditions and choose the right gear for an optimal experience:
Assessing Ideal Snow Depth for Snowshoes
Starting Point: Aim for a minimum of six inches of snow provide adequate flotation and ensure that you don't damage the underlying vegetation or your equipment.
Deep Snow: In deeper snow, opt for snowshoes with a larger surface area to enhance flotation and ease your walk.
Choosing Snowshoes for Snow Density
Light and Fluffy Snow: When the snow is powdery, snowshoes designed for flotation help conserve energy and make snowshoeing enjoyable.
Wet and Heavy Snow: For dense, heavy snow, look for snowshoes with aggressive traction to ensure stability and prevent slipping.
Snowshoe Features for Adapted Conditions
Weatherproofing: Keep your feet dry and comfortable with snowshoes that boast waterproof materials and designs.
Secure Fit: Choose snowshoes with bindings that hold well to your boots, especially important when navigating through heavy snow.
Safety First: Ensure your snowshoes have adequate grip features to safely enjoy your time, whether it's lightly snowing or you're facing heavier snowfalls.
Choosing the Right Snowshoes for Various Conditions
Sometimes it goes beyond how much snow do you need to snowshoe, and more about selecting the perfect snowshoes is pivotal for your outdoor excursions, as they must suit the variety of conditions you'll encounter. Here are some considerations to guide you in finding the best fit:
Factors to Keep in Mind for Your Snowshoes
Terrain Type: Whether you're walking on gentle slopes or rugged mountainous terrain, choose snowshoes that match the complexity of your chosen path.
Snowshoe Design: Consider designs that offer flexibility for a start-to-finish enjoyable experience, no matter how much snow you encounter.
Experience Level: Beginners may need snowshoes that are more forgiving and easier to use, while experienced snowshoers might look for advanced features.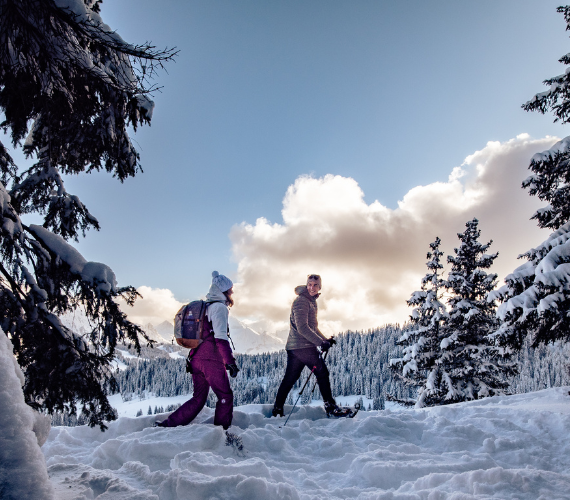 Essential Features for Your Snowshoeing Adventure
Flotation: In deep snow, flotation is key. Look for snowshoes that can keep you atop the snow for an easier walk.
Traction: For icy or hard-packed surfaces, snowshoes with strong traction will help prevent slips and falls.
Adjustability: Adjustable bindings will accommodate various boots and ensure a secure fit, which is crucial for safety and reducing muscle fatigue.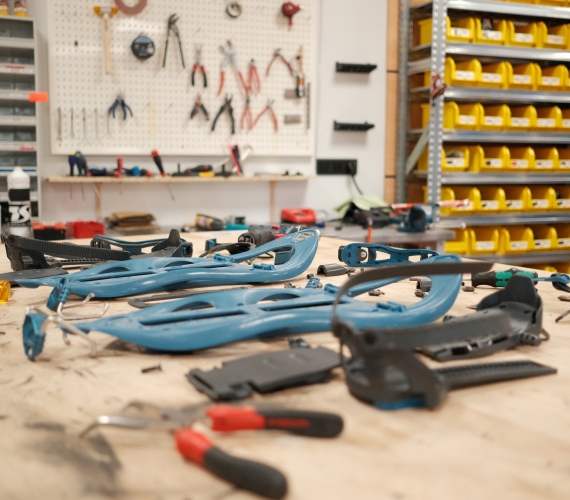 Making the Right Choice for Your Needs
Personal Preference: Always consider your comfort and preference in style—after all, the best gear is the one you feel good using.
Durability: Durable materials will withstand the wear and tear of your adventures, especially when the snow gets deeper and the terrain more demanding.
Support: Good support from your snowshoes can make a day on the trails less taxing on your body, enhancing your overall snowshoeing experience.
Is it Safe to Snowshoe When It's Snowing?
Among the prominent concerns that stem from how much snow do you need to snowshoe, is the safety of winter enthusiasts. Below we address ways to ensure your snowy adventure is as safe as it is picturesque:
Preparation is Key
Check the Weather: Before you start, always check the forecast. Sudden weather changes can impact visibility and the condition of the snow.
Appropriate Gear: Use snowshoes that cater to the demands of weather conditions.
Safety Tips While Snowshoeing
Stay Visible: Wear bright, reflective clothing as visibility can decrease when it's snowing.
Stick to Known Trails: Familiar routes can help you navigate if the snow begins to cover your path.
Maintain Communication: Carry a charged mobile device or a radio, especially if snowshoeing in remote areas.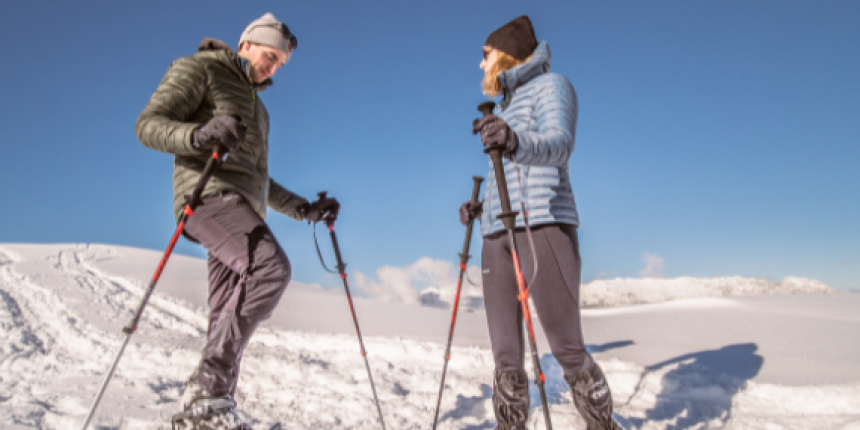 Maximizing Your Snowshoeing Experience
To truly enjoy the wonders of snowshoeing, it's not just about having enough snow. It's about maximizing the experience with the right approach and equipment. Below are insights to help you make the most of your snowshoeing adventure:
Choose the Right Trail: Select a trail that matches your skill level. Novices should start with flatter, less challenging trails.
Optimize Your Gear: Ensure your snowshoes have the necessary features such as easy-to-use bindings and good flotation. Ensure your boots provide warmth and waterproofing features.
Develop Stamina & Technique: Practice the right walking technique, which includes lifting your knees slightly higher and keeping your snowshoe poles close to your body for balance. Snowshoeing can be a workout, so gradually increase your distance and intensity for better stamina.
Post-Activity Care: Take care of your gear after use. Remove snow and ice from your snowshoes and boots, and store them properly to ensure longevity.
TSL Outdoor: Snowshoes Designed for Performance
As we've explored, the amount of snow needed to go snowshoeing can vary, but having a foundational layer of at least six inches will help protect the terrain and ensure a smooth experience. And vital to this: your snowshoes as they become not just a tool, but a companion on your journey through the serene, snow-covered landscapes.
Ready to step into the world of snowshoeing? Now that you know how much snow you need to snowshoe, embrace the chill, find your path, and make your mark in the snow with TSL Outdoor's collection of expertly crafted snowshoes for women, men, and children.
With our selection of snowshoes, you're only steps aways from finding your perfect trail, and enjoying your snowshoeing experience!