Tips for dressing for Nordic Walking
Nordic Walking is an outdoor sport that requires comfortable clothing adapted to the weather. It's highly accessible, suitable for all ages and levels of fitness, and offers numerous health benefits. It's a complete activity with multiple benefits. Here's our advice on how to dress for it and enjoy it in complete relaxation.
THE CLOTHES
- BREATHABILITY & COMFORT
Nordic Walking clothing must be quick-drying to ensure comfort throughout. This is a sustained and dynamic physical activity, so you need to wear light, breathable clothing that wicks away perspiration. Avoid wearing cotton clothes, which retain all the moisture.
What's more, if you want to be able to move easily and keep your arms and stride unobstructed, choose tight-fitting clothes that don't restrict your movements. That way, you'll have optimum freedom of movement and won't be slowed down unexpectedly.
Discover a selection of special Nordic Walking products.
- SHOES
Nordic walking shoes should be light, breathable and have a flexible sole. They should also provide good support for your feet and ankles, as well as good grip to prevent slipping. Make sure your shoes fit properly and are comfortable.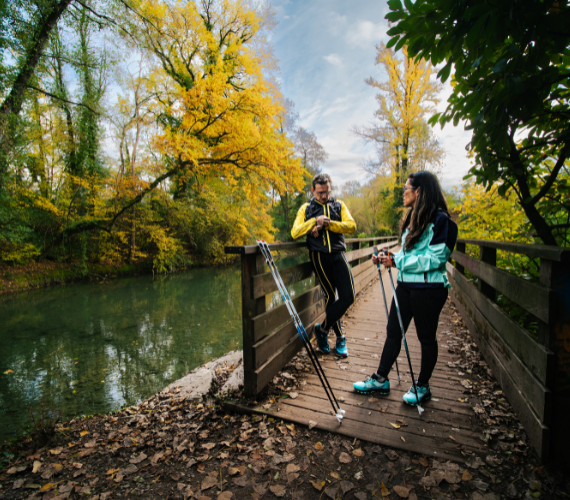 ACCESSORIES
- POLES  
Nordic Walking poles should be adapted to your size and level of ability. They should be light and strong, with a comfortable handle for a good grip. The arms help to propel the body, increasing speed and endurance. As well as being Made in France, our poles in the Tactil range adapt to all types of terrain (thanks to the Crossover Pad) and all your movements (thanks to the removable magnetic gauntlet), so 0% constraint for 100% pleasure.
- BAGS OR BELT
For a complete outfit and for practicality, you can carry a small rucksack to carry your belongings or use a belt (such as our Finisher belt) to hold a cereal bar, soft flask, keys and phone, for example.
TIPS:  Adapt your clothing to the weather conditions: in winter, wear warm, waterproof clothing to protect you from the cold and rain. In summer, wear light, breathable clothing to protect you from the heat and don't forget to protect yourself from the sun with a hat or cap to protect your eyes and sun cream to protect your skin.
And off you go!
By following this advice, you'll be able to get the most out of Nordic Walking in comfortable, appropriate clothing!