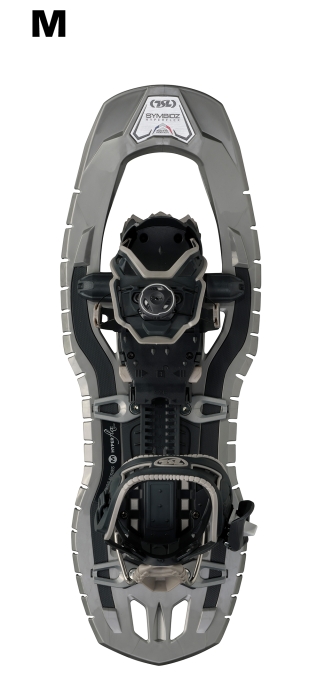 The combination of innovations found in the Symbioz Original 2 (from precision, wrap-around bindings to the Hyperfl ex concept) help make walking safer, more comfortable and more natural, eliminating any rough patches from the terrain.Taming mountains is set to become child's play!
Level of difficulty : EXPLORE, 2/3
Suitable for hikers looking for ease of use and versatility
DECK

- Hyperflex Concept : Hyper-flexible and lightweight with an ergonomic binding, the Symbioz adapts to The unevenness of the terrain to give extraordinary traction and a completely natural stride.
- Thermoplastic reinforcements : Thermoplastic reinforcements support the SYMBIOZ ORIGINAL 2 distortion constraints to provide a natural stride in both the bending and twisting phases.
- Hourglass shape : allows for easier stride when walking
BINDING

- Flexible binding provides a high level of foot flexibility
- Lock Adjustment : This easy-to-use adjustment memorizes your shoe size for all your snowshoeing outings.
- BOA® Fit System : The BOA® Fit System delivers micro-adjustable, precision fit engineered to perform in the toughest conditions.
- Lateral Adjust : offer greater comfort with their side adjustment system that will accept any width of shoe to give maximum foot surround.
- Ankle PRE-ADJUST : Enables you to centre the comfort PAD on your instep and permanently set its position.
- Tightening through a ratchet system for a secure and fast fit
- Bi-material comfort strap
- Sound and Shock Absorbing System (SSAS)
- Easy Ascent Heel lift,activated by simply pushing with the pole
TRACTION

NEVER HAS A SNOWSHOE OFFERED SUCH OUTSTANDING GRIP.
- The flexible frame follows the shape of the terrain, provides superb stability and complete safety to avoid sudden sliding in powder snow.
- The vertical blades provide superb traction and control on inclines or steep slopes in soft
or compact snow.
- Front teeth
- The 8 independent steel spikes are always located under the foot's pressure points, no matter the size of your foot.
Made in France. Delivered with snowshoe bag.
Size guide
Here is a table to help you choose the size of the product. Don't hesitate to contact us if you need more information !
Pointure
41 > 50
8 > 15
9,5 > 16,5
41 > 50
8 > 15
9,5 > 16,5
41 > 50
8 > 15
9,5 > 16,5
Poids utilisateur
30 > 55 > 80 kg
65 > 120 > 180 lbs
50 > 85 > 120 kg
110 > 185 > 260 lbs
70 > 105 > 140 kg
150 > 225 > 300 lbs
Delivery
Orders normally ship within 48 hours. Orders placed over the weekend or on holidays will ship within 2 business days. Shipping Cost: Orders over $100.00 qualify for free shipping. Orders up to $49.99 are charged $8.50 shipping Orders from $50.00 to 99.99 are charged $15.00 for shipping. More information on delivery terms and conditions
Returns
If you are not satisfied with your new purchase from TSL, you may return it within 14 days from receipt. You may return the goods without penalty, but you are responsible for the shipping cost. More information about the returns policy
Choisir mon produit