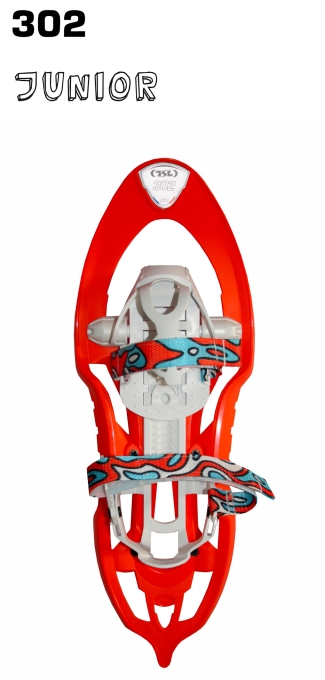 Snowshoes 302 Freeze : A sophisticated model fitted with an ultra-simple size adjustment system and two self-gripping tightening straps, it offers excellent traction through its 3D design, 6 crampons and front teeth. It's got everything the big boys have.
Level of difficulty : JUNIOR
The first snowshoe for little hikers
DECK Hourglass shape : allows for easier stride when walking BINDING Heel cup with self-gripping strap Adjustable toe box with self-gripping strap Telescopic size adjustment ACCROCHE Front teeth for maximum traction on steep terrain 6 replaceable steel crampons All our pairs of snowshoes are supplied with bags for transport and storage.
Size : 30 > 40 ( 13 girl > 9 women )
User weight : 25 > 35 > 50 kg ( 40 > 75 > 110 lbs)
Technologies
Documentation
Size guide
Here is a table to help you choose the size of the product. Don't hesitate to contact us if you need more information !
Pointure
30 > 40
13 girl > 9 women
Poids utilisateur
20 > 35 > 50 kg
40 > 75 > 110 lbs
Delivery
Orders normally ship within 48 hours. Orders placed over the weekend or on holidays will ship within 2 business days. Shipping Cost: Orders over $100.00 qualify for free shipping. Orders up to $49.99 are charged $8.50 shipping Orders from $50.00 to 99.99 are charged $15.00 for shipping. More information on delivery terms and conditions
Returns
If you are not satisfied with your new purchase from TSL, you may return it within 14 days from receipt. You may return the goods without penalty, but you are responsible for the shipping cost. More information about the returns policy
Choisir mon produit