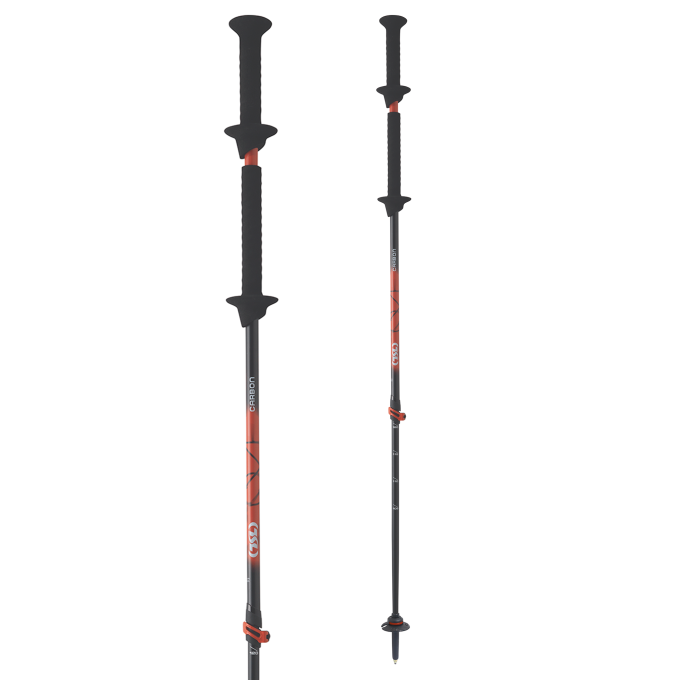 The Special Traverse Pole! Link the most diverse types of support with maximum efficiency!
Instinctively change the position of your hand on the handle and supports for:
- Safe and effective grip.
- Natural and powerful support for the edge of your hand, thus avoiding needless gripping of the handle.
- Energy saving both rising and falling while providing maximum power.
• EVA foam handle : 1 adjustable support-handle (you can adjust the support height (depending on the slope) for maximum efficiency and accuracy of force distribution) + 1 fixed support-handle
• Detachable Leach (Prevents loss of the poles on steep slopes. Secure, instant unclipping in the event of a fall.)
• 2 parts Carbon
• External Lock System
• Tungsten tip
• Push & Pull System
Size guide
Here is a table to help you choose the size of the product. Don't hesitate to contact us if you need more information !
Move

Ergonic, EVA foam handle without indexing guaranteeing an excellent power / comfort relationship
Push & pull

A Patented system, for fast and easy basket mounting and removal

All of the tips are made from tungsten, providing excellent grip and great durability.

Poles come supplied with Ø55 and Ø95 baskets and the Crossover end piece (The Crossover adapts to the obstacles you face throughout your walk to provide extraordinary traction and support, whatever the terrain. 8 multi-crampons adjust their shape upon contact with the ground, hugging the surface and giving you the grip you need).
Delivery
Orders normally ship within 48 hours. Orders placed over the weekend or on holidays will ship within 2 business days. Shipping Cost: Orders over $100.00 qualify for free shipping. Orders up to $49.99 are charged $8.50 shipping Orders from $50.00 to 99.99 are charged $15.00 for shipping. More information on delivery terms and conditions
Returns
If you are not satisfied with your new purchase from TSL, you may return it within 14 days from receipt. You may return the goods without penalty, but you are responsible for the shipping cost. More information about the returns policy