This is a question that you almost certainly asked yourself when you started trail running. Poles can be a real help in trail, but you have to know how to use them. And so this month we asked 3 athletes from Team TSL to share their top tips to help you use your poles more effectively. After reading this, using poles for trail running will be a walk in the park!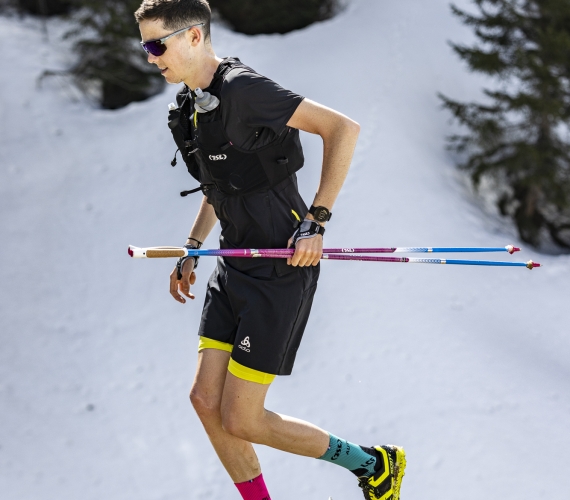 Yves Heloury's advice :
"First of all, it's important to have tested the pole carrying system on your bag so that you can store your poles easily. If you haven't tested it before the competition and then realise halfway through that it's not comfortable or that the poles are too long to store, it can be a real stress.
Once you have tested the pole carrying system, you need to train a lot with the poles before the race. This way you'll get used to the movements involved and the fatigue that they cause. The body needs to get used to using poles for their use to be an advantage.
Finally, you need to be careful about what model you buy: it's essential to have lightweight poles that are the right size, as this makes it much easier to push on them!"
Don't hesitate to take a look at our size guide.
Damien Humbert's advice :
"Here is my advice for using poles:
Manage the intensity you put into pushing on them. Poles are tools that support walking or running, but under no circumstances should you put all of your strength into them.
Choose a size that will be helpful on a hill, but won't require you to lift your arms too much on a steep slope.
Choose poles that you can easily fold for long distances and lightweight poles for kV and Skyrace.
Plant the poles simultaneously when walking on steep slopes. If you're running, it's better to offset the placement of the poles to avoid disrupting your running rhythm. You can also plant the poles simultaneously like in cross-country skiing on shallow slopes."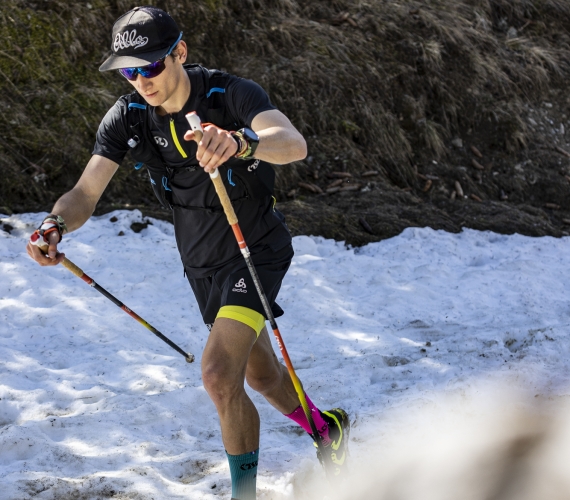 Benjamin Roubiol's advice :
"Beginner tips: start to use poles when you're moving at slow speeds so that you learn to be coordinated and get a good understanding of what's required. You need to develop use that is effective and doesn't use much energy. Achieving a good technique requires training, so it's really important to train regularly with poles.
Advanced tips: When you begin to push on the poles, keep your hands close to your thorax rather than extending your arms! This uses strong muscles (pectoral and dorsal muscles) and improves performance!"