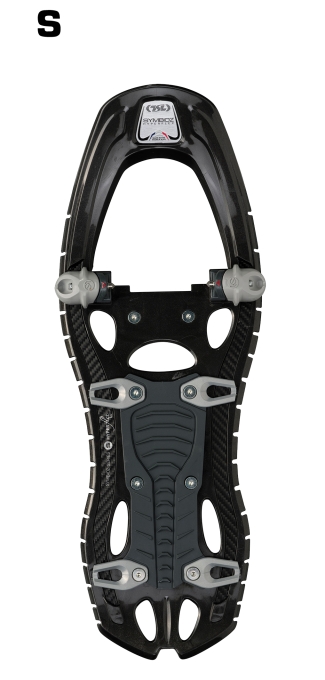 Snowshoes SYMBIOZ HYPERFLEX STEP-IN: Combining the best of Hyperflex and Step-In technologies, this model will astonish you by its completely natural foot action, its unmatched lightness and ease of fitting.
Level of difficulty : EXPLORE, 2/3
Suitable for hikers looking for ease of use and versatility

DECK

- Hyperflex Concept : Hyper-flexible and lightwieght with an ergonomic binding, the Symbioz adapts to The unevenness of the terrain to give extraordinary traction and a completely natural stride.
- CARBON REINFORCEMENTS : Carbon reinforcements store energy during the flexing phase and restore it at the end of the stride to increase stride power and reduce effort and vibration. Distortion of the Symbioz Step-In frame is progressive, responsive, precise and uniform in both the bending and twisting phases.
- Hourglass shape : allows for easier stride when walking
BINDING

- Automatic step-in binding. Easy to use and time saving for every snowshoer
- Heel pressure plate for added comfort
TRACTION

NEVER HAS A SNOWSHOE OFFERED SUCH OUTSTANDING GRIP.
- The flexible frame follows the shape of the terrain, provides superb stability and comp
RAHMEN
- Hyperflex Concept : Dank seiner extremen Flexibilität, seines geringen Gewichts und seiner ergonomischen Bindung passt sich der Symbioz an jedes Gelände an und erlaubt dabei ein erstaunlich natürliches Abrollen des Fußes. Die Elastizität und Reaktionsschnelligkeit bieten noch mehr Freiheit und Leichtigkeit.
- Die thermoplastischen Verstärkungen nehmen die auf den SYMBIOZ ORIGINAL 2 einwirkenden Verformungskräfte auf. Sie ermöglichen eine gleichmäßige Übertragung der Kräfte auf den ganzen Rahmen, damit der Schritt beim Biegen genauso wie beim seitlichen Verdrehen natürlich abläuft.
- Wespentaillienform für einen leichteren Gang
BINDUNGEN
- Die flexible Bindung ermöglicht ein natürliches Abrollen des Fußes
- Lock Adjustment : Es muss lediglich die Verriegelungsvorrichtung betätigt und die Fersenstütze auf die gewünschte Größe geschoben werden, um die Längeneinstellung zu speichern.
- BOA® Fit System : DIALED IN – SCHNELL UND MÜHELOS ZUR PRÄZISENPASSFORM.
BEWEGLICHKEIT UND SCHNELLIGKEIT : Das BOA® Fit System schafft eine nahtlose Verbindung zwischen Körper und Equipment und unterstützt somit schnellere, kraftvollere Richtungsänderungen und Bewegungsabläufe.
KRAFT UND PRÄZISION : Kraft ohne Verzicht auf Präzision: das BOA® Fit System sichert Explosivität und unvergleichliche Genauigkeit.
- Lateral Adjust : Seitliche Verstellung für optimale Anpassung und Größenspeicherung.
- VOREINSTELLUNG KNÖCHEL : Damit lässt sich das Komfort-Strap auf den Schuh ausrichten und dessen Position speichern.
- Festziehen der Fersenbindung mittels Ratschensystem für einen sicheren und guten Sitz
- Komfort-Strap aus Bi-Material
- Geräusch und stoßabsorbierendes System (SSAS)
- Steighilfe : Mit der"EASY ASCENT " Steighilfe Automatikfunktion, ist es nicht mehr nötig sich zum anpassen der Steighilfe zu bücken..
HALT
- Die Vorderklaue ermöglicht maximale Zugkraftauf in steilen Hängen.
- Die vertikal angeordneten Schienen bieten bei weichem Schnee optimale Zugkraft und perfekten Halt – egal ob in Schräghängen oder bei starken Steigungen.
- 8 austauschbare Stahlspikes
Made In France. Schneeschuhe werden inklusive Transport- und Lagerbeutel geliefert.
lete safety to avoid sudden sliding in powder snow.
- The vertical blades provide superb traction and control on inclines or steep slopes in soft
or compact snow.
- Front teeth
- The 8 independent, abrasion-resistant stainless steel crampons (similar to mountaineering crampons) are always located under the foot's pressure points, no matter the size of your foot. They grip is unbeatable.
Made in France. Delivered with snowshoe bag.
Features
Crampons
2 x 8
2 x 8
2 x 8
Documentation
Size guide
Here is a table to help you choose the size of the product. Don't hesitate to contact us if you need more information !
Pointure
36 > 44
6 women > 12 women
Poids utilisateur
30 > 55 > 80 kg
65 > 120 > 180 lbs
50 > 85 > 120 kg
110 > 185 > 260 lbs
70 > 105 > 140 kg
150 > 225 > 300 lbs
Delivery
Orders normally ship within 48 hours. Orders placed over the weekend or on holidays will ship within 2 business days. Shipping Cost: Orders over $100.00 qualify for free shipping. Orders up to $49.99 are charged $8.50 shipping Orders from $50.00 to 99.99 are charged $15.00 for shipping. More information on delivery terms and conditions
Returns
If you are not satisfied with your new purchase from TSL, you may return it within 14 days from receipt. You may return the goods without penalty, but you are responsible for the shipping cost. More information about the returns policy