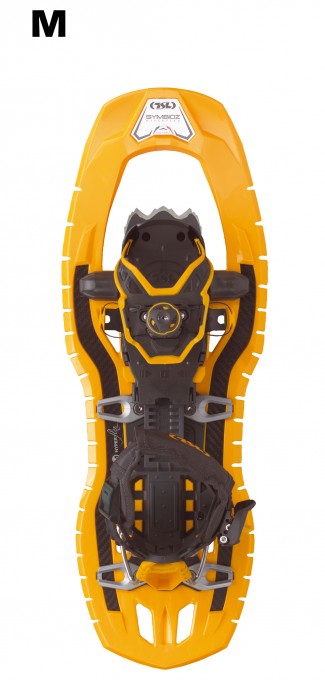 Snowshoes SYMBIOZ HYPERFLEX ADJUST : The Symbioz Adjust is the perfect fusion between walking comfort and performance. Fastening using fine, uniform binding is combined with Hyperflex technology for 100% natural foot movement. The carbon supports and the range of crampons provide optimal levels of control and foot grip on all types of snow.
Level of difficulty : SUMMIT, 3/3
Suitable for experienced hikers looking for technicality, grip and comfort.
NATURAL STRIDE
Hyper-flexible and light with an ergonomic binding, the Symbioz adapts to the unevenness of the terrain to give extraordinary traction. The inserts provide elasticity and lightness and offer a feeling of freedom and ease.
CARBON REINFORCEMENTS
Carbon reinforcements offer superb flexibility; they store energy during the bending phase and restore it at the end of the stride to increase stride power and reduce effort. They act dynamically during every part of the stride. Distortion of the Symbioz frame is progressive, responsive, precise and uniform in both the bending and twisting phases. Carbon reinforcements reduce vibration and give greater muscle relaxation and the feeling of freedom and ease.
BINDING
- Flexible binding provides a high level of foot flexibility
- Lock Adjustment : This easy-to-use adjustment memorizes your shoe size for all your snowshoeing outings.
- BOA® Fit System : The BOA® Fit System delivers micro-adjustable, precision fit engineered to perform in the toughest conditions.
- Lateral Adjust : offer greater comfort with their side adjustment system that will accept any width of shoe to give maximum foot surround.
- Ankle PRE-ADJUST : Enables you to centre the comfort PAD on your instep and permanently set its position.
- ghtening through a ratchet system for a secure and fast fit
- Padded comfort strap
- Sound and Shock Absorbing System (SSAS)
- Easy Ascent Heel lift,activated by simply pushing with the pole
TRACTION
Never has a snowshoe offered such outstanding grip. Combined with the vertical blades, the stainless steel bidirectional crampons placed under the foot give incredible traction (uphill), excellent grip (downhill) and perfect drift control (incline). The flexible frame follows the shape of the terrain, provides superb stability and complete safety and avoids sudden sliding in powder snow.
- The front teeth provide maximum traction on steep slopes.
- The vertical blades provide superb traction and control on inclines or steep slopes in soft snow.
- 8 interchangeable stainless steel crampons, similar to mountaineering crampons, provide traction on all types ofsnow.
COMFORT AND EASE
Comfortable and easy to put on as a result of their pre-adjustment feature that memorizes shoe size, the Symbioz' telescopic bindings accentuate the foot movement provided by the frame. The Easy Ascent heel lift incorporated into the binding is activated by simple downward push from the pole. Also, during ascents, you won't have any feeling of discomfort under your foot as your weight is spread across the whole of the binding heel.within the frame. The new Easy Ascent heel lift, built into the binding, is activated by simply pushing it with the pole.
All our pairs of snowshoes are supplied with bags for transport and storage.
Features
Dimensions
52.5 x 19 cm
59 x 21 cm
69 x 22.5 cm
Weight
905 g x 2
955 g x 2
1055 g x 2
Crampons
2 x 8
2 x 8
2 x 8
Size guide
Here is a table to help you choose the size of the product. Don't hesitate to contact us if you need more information !
Pointure
37 > 44
6,5 women > 12 women
Poids utilisateur
30 > 55 > 80 kg
65 > 120 > 180 lbs
50 > 85 > 120 kg
110 > 185 > 260 lbs
70 > 105 > 140 kg
150 > 225 > 300 lbs
Delivery
Shipping within Canada on orders over 150,00 $ is free* * Before taxes and after discounts * Orders from 1,00 $ to 49,99 $ delivery fees 10,00 $ * Orders from 50,00 $ to 149,99 $ delivery fees 15,00 $ * Delivery fees 25,00 $ for remote locations in CanadaMore information on delivery terms and conditions
Returns
Product returns are accepted within 7 days of receiving your order. Product returns are eligible for a refund if your return meet all the following criteria More information about the returns policy
Guarantee
TSL's products are guaranteed against any operation defect resulting from any material, manufacturing or designing defect subject to the following provisions. This warranty applies for 2 years after the delivery of the product in accordance with article L. 217-4 of the french Consumers' Code. Replacement parts available, 5 years. Manufacturing defects are covered subject to normal maintenance and normal use (hiking). More information about the warranty terms and conditions