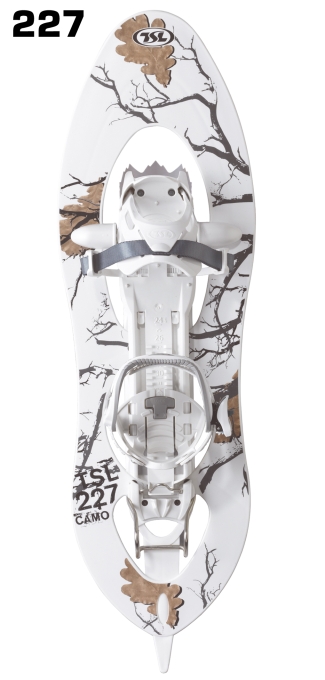 Snowshoes 217 & 227 CAMO : With their increased flotation, the 217 and 227 CAMO are very popular in powder snow. Technically sophisticated and offering great traction, they are simple and comfortable to use. Size is easily memorized. Heel block tightening via the instep strap is secure and reliable. For lovers of wide open spaces.
Level of difficulty : DISCOVER, 1/3
The technical and comfortable snowshoe for little hikers
DECK
Hourglass shape : allows for easier stride when walking
BINDING
Lock Adjustment : This easy-to-use adjustment memorizes your shoe size for all your snowshoeing outings.
Tightening through a ratchet system for a secure and fast fit
Lateral Adjust : offer greater comfort with their side adjustment system that will accept any width of shoe to give maximum foot surround.
Sound and Shock Absorbing System (SSAS)
Heel lift : facilitates hiking during long climbs,reduces calf muscle fatigue
Heel block : only for transporting or storing snowshoe
TRACTION
Front teeth for maximum traction on steep terrain
6 replaceable steel crampons
All our pairs of snowshoes are supplied with bags for transport and storage.
Size guide
Here is a table to help you choose the size of the product. Don't hesitate to contact us if you need more information !
Pointure
35 > 47
5 women > 14,5 women
Poids utilisateur
40 > 70 > 100 kg
90 > 220 lbs
70 > 105 > 140 kg
150 > 225 > 300 lbs
Delivery
Shipping within Canada on orders over 150,00 $ is free* * Before taxes and after discounts * Orders from 1,00 $ to 49,99 $ delivery fees 10,00 $ * Orders from 50,00 $ to 149,99 $ delivery fees 15,00 $ * Delivery fees 25,00 $ for remote locations in CanadaMore information on delivery terms and conditions
Returns
Product returns are accepted within 7 days of receiving your order. Product returns are eligible for a refund if your return meet all the following criteria More information about the returns policy
Guarantee
TSL's products are guaranteed against any operation defect resulting from any material, manufacturing or designing defect subject to the following provisions. This warranty applies for 2 years after the delivery of the product in accordance with article L. 217-4 of the french Consumers' Code. Replacement parts available, 5 years. Manufacturing defects are covered subject to normal maintenance and normal use (hiking). More information about the warranty terms and conditions