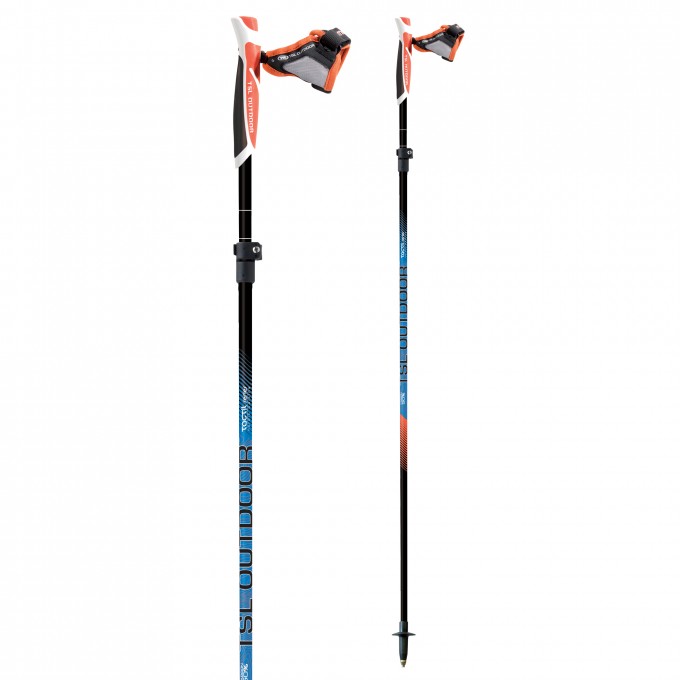 Nordic walking pole TACTIL ADJUST : Its 50% carbon composition offers perfect rigidity and good vibration absorption. A versatile companion.

- Bi-material handle
- Strap Magnetic System
- 1 part 50% carbon and 1 part Aluminium 7075
- External Lock System
- Straight Tungsten tip
- Profil Pads
Size guide
Here is a table to help you choose the size of the product. Don't hesitate to contact us if you need more information !
Magnetic Slim

Bi-material soft handle

MAGNETIC SYSTEM : IT'S MAGIC!

With its magical, magnetic, unique and easy to use technology, attaching the wrist strap to the pole is child's play. Don't worry about aiming at the pole; it'll come straight to you. While you're walking it is safely locked into place, so there's no danger of it slipping from your grasp. Finally, removing it is a breeze; just press the button and let go.
Magnetic ST

ST : An ergonomically designed glove for better grip, comfort and precision. The breathable fabric used and the reinforcement around the circumference make it more effective at withstanding shear pressure while providing enhanced support.
Standard

Straight tip fitted with a washer

All of the tips are made from tungsten, providing excellent grip and great durability.

Poles supplied with Crossover pads. (The Crossover adapts to the obstacles you face throughout your walk to provide extraordinary traction and support, whatever the terrain. 8 multi-crampons adjust their shape upon contact with the ground, hugging the surface and giving you the grip you need).
Delivery
Orders normally ship within 48 hours. Orders placed over the weekend or on holidays will ship within 2 business days. Shipping Cost: Orders over $100.00 qualify for free shipping. Orders up to $49.99 are charged $8.50 shipping Orders from $50.00 to 99.99 are charged $15.00 for shipping. More information on delivery terms and conditions
Returns
If you are not satisfied with your new purchase from TSL, you may return it within 14 days from receipt. You may return the goods without penalty, but you are responsible for the shipping cost. More information about the returns policy